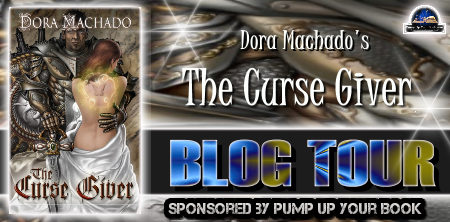 Join Dora Machado, author of the fantasy novel, The Curse Giver, as she tours the blogosphere August 5 through October 25, 2013 on her first virtual book tour with Pump Up Your Book!
ABOUT THE CURSE GIVER
Lusielle's bleak but orderly life as a remedy mixer is shattered when her husband betrays her and she is sentenced to die for a crime she didn't commit. She's on the pyre, about to be burned, when a stranger breaks through the crowd and rescues her from the flames.
Brennus, Lord of Laonia is the last of his line. He is caught in the grip of a mysterious curse that has murdered his kin, doomed his people and embittered his life. To defeat the curse, he must hunt a birthmark and kill the woman who bears it in the foulest of ways. Lusielle bears such a mark.
Stalked by intrigue and confounded by the forbidden passion flaring between them, predator and prey must come together to defeat not only the vile curse, but also the curse giver who has already conjured their ends.


PURCHASE AT:
ADD BOOK ON GOODREADS:
ABOUT DORA MACHADO
Dora Machado is the award winning author of the Stonewiser series and her newest novel, The Curse Giver, coming this summer from Twilight Times Books. She is one of the few Latinas exploring her heritage and her world through the epic fantasy genre today. She holds a master's degree in business administration and graduated Phi Beta Kappa from Georgetown University. She was born in Michigan and grew up in the Dominican Republic, where she developed a bilingual fascination for writing, a love for history, and a taste for Merengue. After a lifetime of straddling such compelling but different worlds, fantasy is a natural fit to her stories. She enjoys long walks, traveling, and connecting with the amazing readers who share in her mind's adventures. She lives in Florida with her indulging husband and three very opinionated cats.
You can visit her at www.doramachado.com
WATCH THE TRAILER!
The Curse Giver Virtual Book Publicity Tour Schedule
————————————————————
Monday, August 5 – Book featured at Margay Leah Justice
Wednesday, August 7 – Interviewed at Review From Here
Friday, August 9 – Interviewed at Examiner
Monday, August 12 – Guest blogging at Literarily Speaking
Tuesday, August 13 – Interviewed at Straight from the Authors Mouth
Thursday, August 15 – Guest blogging at She Writes
Friday, August 16 – Interviewed at Beyond the Book
Monday, August 19 – Book reviewed and Trailer reveal at Miki's Hope
Wednesday, August 21 – Guest blogging at Literal Exposure
Thursday, August 22 – Book featured at As the Pages Turn
Friday, August 23 – Interviewed at I'm Shelf-ish
Tuesday, August 27 – 1st chapter reveal at Examiner
Wednesday, August 28 – Interviewed at Pump Up Your Book
Thursday, August 29 – Book reviewed at moonlightreader
Friday, August 30 – Guest blogging at The Writer's Life
Wednesday, September 4 – Guest blogging at Allvoices
Thursday, September 5 – Interviewed at Book Marketing Buzz
Friday, September 6 – Book spotlight at Bibliotica
Monday, September 9 – Book reviewed at Bibliotica
Wednesday, September 11 – Book featured at Between the Covers
Friday, September 13 – Book reviewed at Must Read Faster
Monday, September 16 – Guest blogging at Review From Here
Tuesday, September 17 – Interviewed at Broowaha
Wednesday, September 18 – Guest blogging at Newsvine
Friday, September 20 – Book reviewed at Mom in Love with Fiction
Monday, September 23 – Guest bloggging at The Dark Phantom
Wednesday, September 25 – Book trailer reveal at Pump Up Your Book
Thursday, September 26 – Interviewed at As the Pages Turn
————————————————————–

Spotlight on: The CurseGiver by Dora Machado by Melissa Bartell is licensed under a Creative Commons Attribution-NonCommercial-ShareAlike 4.0 International License.