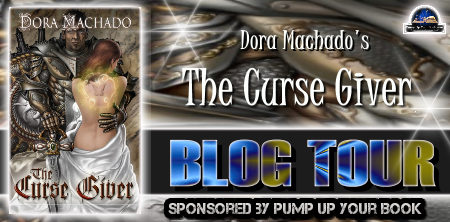 Join Dora Machado, author of the fantasy novel, The Curse Giver, as she tours the blogosphere August 5 through October 25, 2013 on her first virtual book tour with Pump Up Your Book!
ABOUT THE CURSE GIVER
Lusielle's bleak but orderly life as a remedy mixer is shattered when her husband betrays her and she is sentenced to die for a crime she didn't commit. She's on the pyre, about to be burned, when a stranger breaks through the crowd and rescues her from the flames.
Brennus, Lord of Laonia is the last of his line. He is caught in the grip of a mysterious curse that has murdered his kin, doomed his people and embittered his life. To defeat the curse, he must hunt a birthmark and kill the woman who bears it in the foulest of ways. Lusielle bears such a mark.
Stalked by intrigue and confounded by the forbidden passion flaring between them, predator and prey must come together to defeat not only the vile curse, but also the curse giver who has already conjured their ends.


PURCHASE AT:
ADD BOOK ON GOODREADS:
My Thoughts:
It's been a while since I've read any real fantasy. I mean, yes, I'm slowly working my way through George R. R. Martin's A Song of Ice and Fire series, but that world is reasonably similar to our own medieval history, with only a few 'fantastic' elements. I was in the mood for escapist reading this summer, however, so when the nice folks and Pump Up Your Book offered me the chance to read an epic fantasy novel, I jumped at the chance.
The problem with epic fantasy is that very often the fictional world feels as flat as a movie set, with no real depth or history. Dora Machado's The Curse Giver, on the other hand, plunges us into a world so rich, and so well constructed, it feels almost as if we could step sideways into it. One of the early sections, particularly, when Lousielle and Bren are crossing the bog, had me squirming as much as if I was actually there with them avoiding creepy crawlies.
Her main characters are three dimensional, and Lousielle especially, was so smart and spunky that I wanted to be her best friend. Herb lore is something I've always been quietly interested in (witness the collection of herbals in my Word Lounge), so her affinity for plants and potions really drew me in.
Likewise, while Bren could have been Generic Quasi-medieval Noble #17, Machado made him complex and interesting (and gave him a great body, which we appreciate vicariously through Lousielle).
The other characters, good and evil alike, were, similarly, sketched with fine lines, not the broad strokes of generic fantasy.
I've read that Ms. Machado is bilingual, having grown up in the Dominican Republic, and I think some of the charm of The Curse Giver comes from her – probably unconscious – Spanish-influenced rhythms. It's nothing you could point your finger to and say, "Look, that's not typical English phrasing," but a quiet undercurrent that makes the writing really SING.
(I am not bilingual, but I grew up in a New Jersey Neapolitan family where an Italian-English hybrid was the norm. As well, I'm a natural mimic, and my parents retired to Baja Sur, Mexico, about a decade ago, so those Latin-tinged rhythms are familiar to me.)
Overall, I thought The Curse Giver was a delicious read, and it's compelled me to seek out more of Machado's work. I think it's an especially good choice for women who like epic fantasy, but have gotten out of the habit of reading it.
Goes well with… a mug of steaming chai and sharp cheddar melted on toasted rustic wheat bread.
The Curse Giver Virtual Book Publicity Tour Schedule
————————————————————
Monday, August 5 – Book featured at Margay Leah Justice
Wednesday, August 7 – Interviewed at Review From Here
Friday, August 9 – Interviewed at Examiner
Monday, August 12 – Guest blogging at Literarily Speaking
Tuesday, August 13 – Interviewed at Straight from the Authors Mouth
Thursday, August 15 – Guest blogging at She Writes
Friday, August 16 – Interviewed at Beyond the Book
Monday, August 19 – Book reviewed and Trailer reveal at Miki's Hope
Wednesday, August 21 – Guest blogging at Literal Exposure
Thursday, August 22 – Book featured at As the Pages Turn
Friday, August 23 – Interviewed at I'm Shelf-ish
Tuesday, August 27 – 1st chapter reveal at Examiner
Wednesday, August 28 – Interviewed at Pump Up Your Book
Thursday, August 29 – Book reviewed at moonlightreader
Friday, August 30 – Guest blogging at The Writer's Life
Wednesday, September 4 – Guest blogging at Allvoices
Thursday, September 5 – Interviewed at Book Marketing Buzz
Friday, September 6 – Book spotlight at Bibliotica
Monday, September 9 – Book reviewed at Bibliotica
Wednesday, September 11 – Book featured at Between the Covers
Friday, September 13 – Book reviewed at Must Read Faster
Monday, September 16 – Guest blogging at Review From Here
Tuesday, September 17 – Interviewed at Broowaha
Wednesday, September 18 – Guest blogging at Newsvine
Friday, September 20 – Book reviewed at Mom in Love with Fiction
Monday, September 23 – Guest bloggging at The Dark Phantom
Wednesday, September 25 – Book trailer reveal at Pump Up Your Book
Thursday, September 26 – Interviewed at As the Pages Turn
————————————————————–